SECONDA GUERRA MONDIALE
IL "TRATTATO DI PACE"
_____________ ORIGINALE - INTEGRALE ___________
Dallo sbarco in Sicilia-Calabria gli "invasori" erano gli ANGLOAMERICANI
(uno sbarco dei ns. nemici")
i tedeschi erano nostri alleati e li avevamo chiamati noi per respingere questi "invasori"


- non solo - ma risalendo l'Italia diventarono poi "i distruttori"
Milano soprattutto, era diventata un cumolo di macerie....
oltre 10.000 case distrutte dai "liberatori" diventati non più "invasori"
(anzi li chiamammo "alleati" - mentre loro seguitarono a chiamarci "nemici")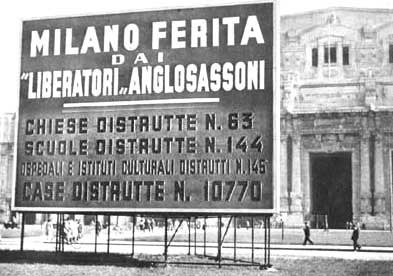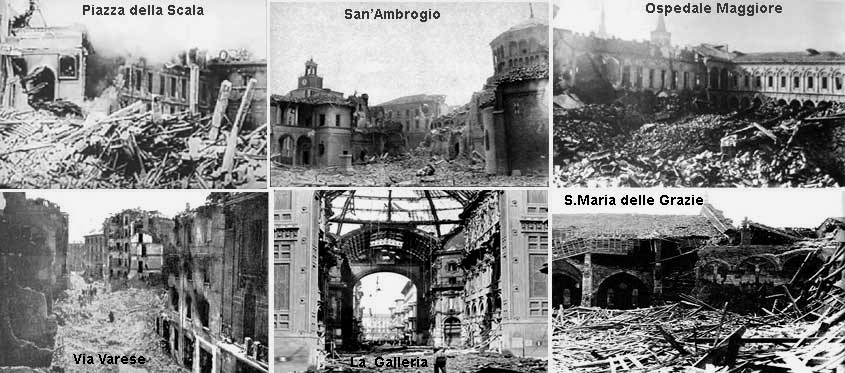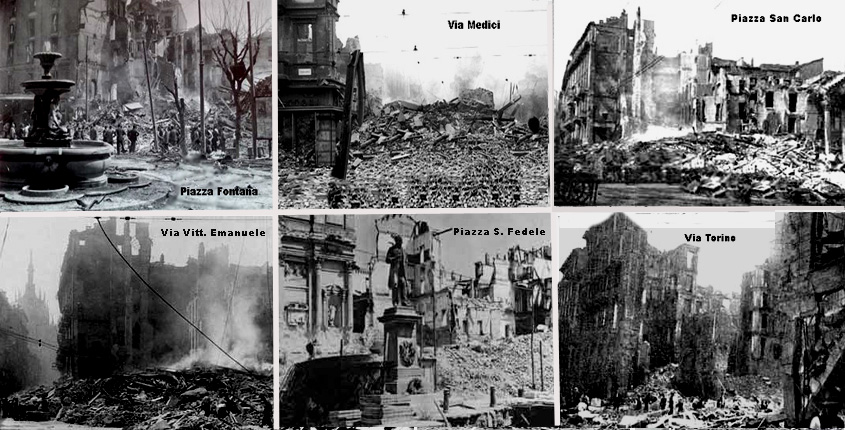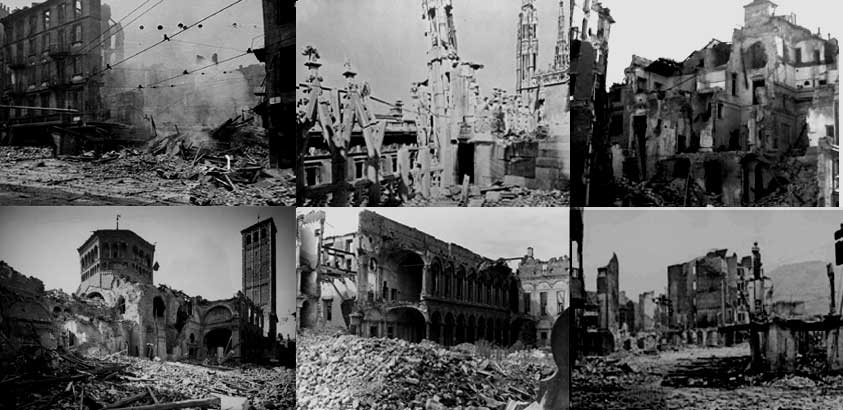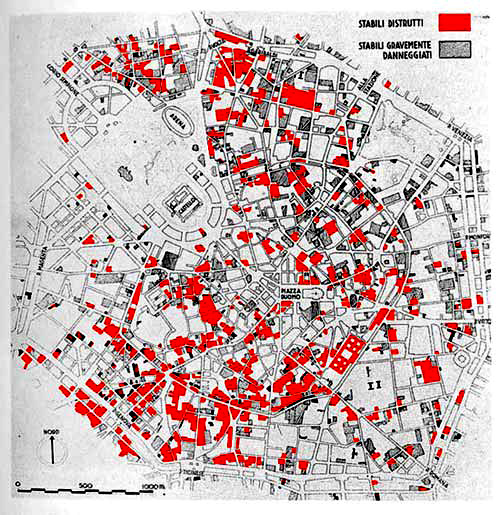 (e ci mancò poco del lancio su Milano della prima Bomba Atomica)
Harris "Il bomber" l'aveva richiesta ma non era ancora pronta.
(ma volle competere con 1000 bombbardieri andò a radere a suolo Dresda)
>>>>>>>>>milano e la bomba tomica >>>>>>>>>>>
ENTRATI POI IL 28 APRILE A MILANO
FURONO SCIOLTE SUBITO LE BANDE DI PARTIGIANI
E FU IMPOSTO LA CONSEGNA DI TUTTE LE LORO ARMI
( FU CONCESSO A LORO DI SFILARE IN CITTA' - MA SOLO IN BORGHESE )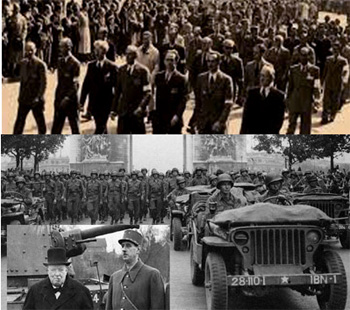 ( mentre a Parigi Churchill sfilava con De Gaulle )
( lui non aveva mai voluto accanto i "partigiani rossi" )
altri italiani ( i "rossi") attesero ma poi fallirono la loro "Rivoluzione"
con la loro "Insurrezione popolare"
Volevano far sventolare anche a Milano la "Bandiera Rossa".
già issata a Trieste col l' "Armata Rossa" di Tito.
(bandiera Italiana con al centro la "stella rossa")
Si opposero ai comunisti gli Italiani di Trieste.
(finché fu divisa in zona A e in zona B (fino al 1954)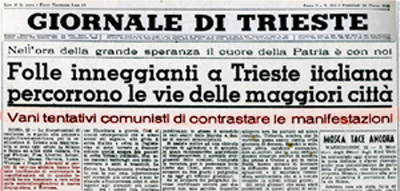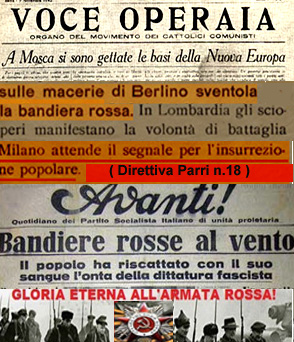 POI A MILANO FU FATTO IL PROCLAMA...........

"CATEGORICO" e "IMPERATIVO"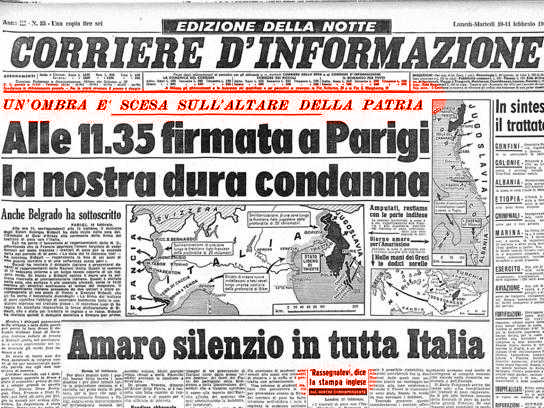 gli Inglesi scrissero " rassegnatevi"!!!!!
ma l'hanno poi chiamata
"Liberazione" dei Partigiani !!!!!!!!!!!!!!!!
vedi prima:
* L'inizio della conferenza di Parigi
* il discorso accorato di De Gasperi
* e L' "IMPERO DELL'ITALIA"?.... FINI' NEL RIDICOLO !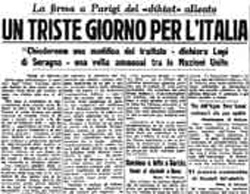 LA 2a GUERRA MONDIALE
PER L'ITALIA FINI COSÌ, IN 182 PAGINE
in 90 articoli e 16 note annesse
( QUI SOTTO IL DOCUMENTO ORIGINALE INTEGRALE )

---
TREATY OF PEACE WITH ITALY
IN FAITH WHEREOF the undersigned Plenipotentiaries have signed
the present Treaty and have affixed thereto their seals.

DONE in the city of Paris in the French, English, Russian and Italian languages,
this tenth day of February One Thousand Nine Hundred and Forty-Seven.
(10 FEBRUARY 1947)
(ufficialmente fu sì redatta una versione in italiano - ma quella messa in circolazione in Italia (che possediamo)
non era per nulla fedele, era lacunosa e anche mal tradotta (era insomma più digeribile).
(il Trattato lo riportiamo in lingua originale onde evitare i noti errori di traduzione)
(ad es. "Italy, having surrendered unconditionally, signed terms of Armistice" )
("l'Italia si è arresa senza condizioni", anche se essa ha usato il termine Armistizio"
Nè si afferma in alcun punto che essa ha contribuito con la "Resistenza" alla vittoria. I Partigiani sono del tutto ignorati)
Il trattato di pace definitivo è stato un atto di natura unilaterale imposto all'Italia
e accettato dal suo governo postbellico.
In esso l'Italia sarà costretta a riconoscere il principio di aver
"intrapreso una guerra di aggressione" (premessa, cpv. 2°):
e pertanto le clausole avranno solo carattere punitivo:

* mutilazioni dei territorio nazionale;
* rinunzia alle colonie;
* riparazioni;
* spese di guerra del vincitore;
* limitazioni della sovranità dello Stato; ( !!!! )
* divieti per gli armamenti anche solo difensivi;
* restrizioni di vario genere".
Oltre a prendere gli USA possesso di alcuni territori
per le loro basi in Italia.
(107 + 20 SEGRETE )
Che ben presto saranno (fino ad oggi) nella penisola così dislocati.



Tutte le clausole furono dall'Italia accettate !!!
Ricordiamo inoltre che già alla "Resa" ( "surrendered unconditionally" - detto dagli italiani "Armistizio")
l'Italia fu costretta a consegnare al "nemico" (poi da essa impropriamente chiamato "alleato" )
la Marina, l'Aviazione, l'Esercito.

Alla conferenza di Pace a Parigi
l'italia non era stata nemmeno invitata a partecipare.
(era del resto l'Italia (assieme alla Germania, imputata per 4 quinti)

LA UMILIANTE PRESENZA DI DE GASPERI >>>>>>>>>>>>
DOPO TRE GIORNI DI ANTICAMERA
( PERCHE' COME "NEMICO" NON ERA STATO NEMMENO CONVOCATO )

---

( originale )
TREATY OF PEACE WITH ITALY

The Union of Soviet Socialist Republics, the United Kingdom of Great Britain and Northern Ireland, the United States of America, China, France, Australia, Belgium, the Byelorussian Soviet Socialist Republic, Brazil, Canada, Czechoslovakia, Ethiopia, Greece, India, the Netherlands, New Zealand, Poland, the Ukrainian Soviet Socialist Republic, the Union of South Africa, and the People's Federal Republic of Yugoslavia, hereinafter referred to as "the Allied and Associated Powers", of the one part, and Italy, of the other part:

WHEREAS Italy under the Fascist régime became a party to the Tripartite Pact with Germany and Japan, undertook a war of aggression and thereby provoked a state of war with all the Allied and Associated Powers and with other United Nations, and bears her share of responsibility for the war; and

WHEREAS in consequence of the victories of the Allied forces, and with the assistance of the democratic elements of the Italian people, the Fascist régime in Italy was overthrown on 25 July 1943, and Italy, having surrendered unconditionally, signed terms of Armistice 3 and 29 September of the same year; and

WHEREAS after the said Armistice Italian armed forces, both of the Government and of the Resistance Movement, took an active part in the war against Germany, and Italy declared war on Germany as from 13 October 1943 and thereby became a co-belligerent against Germany; and

WHEREAS the Allied and Associated Powers and Italy are desirous of concluding a treaty of peace which, in conformity with the principles of justice, will settle questions still outstanding as a result of the events hereinbefore recited and will form the basis of friendly relations between them, thereby enabling the Allied and Associated Powers to support Italy's application to become a member of the United Nations and also to adhere to any convention concluded under the auspices of the United Nations;

HAVE THEREFORE AGREED to declare the cessation of the state of war and for this purpose to conclude the present Treaty of Peace, and have accordingly appointed the undersigned Plenipotentiaries who, after presentation of their full powers, found in good and due form, have agreed on the following provisions:

---------------------------------------------

Gli Stati Uniti avviarono poi il piano ERP; e possiamo benissimo non credere alla favoletta che lo zio Sam fu mosso solo da motivi umanitari. Ma in politica estera si agisce con strategie diverse rispetto a quelle della Caritas. Indubbiamente dietro l'idea del "Piano Marshall" (programma di aiuti per l'Italia e l'Europa) c'erano strategie e obiettivi politici ed economici ben precisi.
Tuttavia nel dare un giudizio definitivo, pur evitando di fare l'apologia degli States, non si può negare che un risultato concreto soprattutto con il Piano Marshall ( vedi ampia documentazione) preservò le economie e la libertà dell'Europa occidentale, Italia compresa.
DOCUMENTO DEL PIAO MARSHALL
IN ORIGINALE

CON TUTTE LE ELARGIZIONI IN DOLLARI
REGIONI PER REGIONI, CITTA' PER CITTA' E ........
CON TUTTI I NOMI
DEI BENEFICIATI
>>>>>>>>>>>>>>>>>>

_________________________
QUI LA TABELLA
DELLE VARIE SEZIONI DEL DOCUMENTO

PARTE I
TERRITORIAL CLAUSES
SECTION I
FRONTIERS art.1-5
PARTE I
SECTION II
FRANCE
(Special clauses) art.6-9
PARTE I
SECTION III
USTRIA
(Special clauses) art. 10
PARTE I
SECTION IV
FED. REP. YUGOSLAVIA
(Special clauses) art.11-13

PARTE I
SECTION V
GREECE
(Special clause)
art. 14

PART II
POLITICAL CLAUSES
SECTION I
GENERAL CLAUSES
art. 15-18

PARTE II
SECTION II
NATIONALITY. CIVIL POLITICAL RIGHTS
art. 19-20

PARTE II
SECTION III
FREE TERRITORY
OF TRIESTE
art. 21-22

CONTENUTO SECONDA PARTE
PARTE II
SECTION IV
ITALIAN COLONIES
art. 23
PARTE II
SECTION V
SPECIAL INTERESTS OF CHINA - art. 24-26
PARTE II
SECTION VI
ALBANIA
art.27-32
PARTE II
SECTION VII
ETHIOPIA
art.33-38

PARTE II
SECTION VIII
INTERNATIONAL AGREEMENTS
art.39-43

PARTE II
SECTION IX
BILATERAL TREATIES
art. 44

PART III
WAR
CRIMINALS
art. 45

PART IV
NAVAL, MILITARY AND AIR CLAUSES SECTION I
DURATION OF APPLICATION
art. 46

SECTION II
GENERAL
LIMITATIONS
art. 47-55

SECTION III
LIMITATION OF THE
ITALIAN NAVY
art. 56-60
SECTION IV
LIMITATION OF THE
ITALIAN ARMY
art. 61-63
SECTION V
LIMITATION OF THE
ITALIAN AIR FORCE
art. 64-66
CONTENUTO TERZA PARTE
SECTION VI
DISPOSAL
OF WAR MATERIAL
art. 67

SECTION VII
PREVENTION - GERMAN JAPANESE REARMAMENT
art. 68-70

SECTION VIII
PRISONERS
OF WAR
art. 71
SECTION IX
MINE
CLEARANCE
art. 72
PART V
WITHDRAWAL
OF ALLIED FORCES
art. 73
PART VI
CLAIMS ARISING OUT
OF THE WAR REPARATION
art. 74
SECTION II
RESTITUTION
BY ITALY
art. 75
SECTION III
RENUNCIATION
OF CLAIMS BY ITALY
art. 76-77
PART VII
PROPERTY, RIGHTS AND INTERESTS
UNITED NATIONS
PROPERTY IN ITALY
art. 78
SECTION II
ITALIAN PROPERTY IN
THE TERRITORY OF ALLIED
AND ASSOCIATED
POWERS
art. 79
SECTION III
DECLARATION OF THE
ALLIED AND ASSOCIATED POWERS
IN RESPECT OF CLAIMS
art. 80
SECTION IV

DEBTS

art. 81
PART VIII
GENERAL
ECONOMIC RELATIONS
art. 82
PART IX
SETTLEMENT OF
DISPUTES
art. 83
PART X
MISCELLANEOUS
ECONOMIC PROVISIONS
art. 84
PART XI
FINAL
CLAUSES
art. 86
ANNEX I
MAPS TO ACCOMPANY THE PEACE TREATY WITH ITALY
ANNEX II
FRANCO-ITALIAN
FRONTIER
ANNEX III
GUARANTEES M. CENIS AND TENDA-BRIGA DISTRICT
ANNEX IV
THE AUSTRIAN AND ITALIAN GOVERNMENTS
CONTENUTO QUINTA PARTE
ANNEX V
WATER SUPPLY
FOR GORIZIA
AND VICINITY
ANNEX VI
PERMANENT STATUTE
FREE TERRITORY
OF TRIESTE
ANNEX VII
PROVISIONAL REGIME
FREE TERRITORY
OF TRIESTE
ANNEX VIII
INSTRUMENT FOR THE
FREE PORT
OF TRIESTE
ANNEX IX
TECHNICAL DISPOSITIONS
THE FREE TERRITORY
OF TRIESTE
ANNEX X
ECONOMIC AND FINANCIAL PROVISIONS RELATING TO THE FREE TERRITORY OF TRIESTE
ANNEX XI
DECLARATION CONCERNING ITALIAN TERRITORIAL POSSESSIONS IN AFRICA

ANNEX XII
THE NAME LIST
OF NAVAL VESSELS
TO BE RETAINED BY ITALY

CONTENUTO SESTA PARTE
ANNEX XIII
DEFINITIONS
NAVAL
MILITARY,
MILITARY AIR
NAVAL TRAINING
DEFINITION AND
LIST
OF WAR MATERIAL
DEFINITION OF THE TERMS "DEMILITARISATION" AND "DEMILITARISED"
ANNEX XIV
ECONOMIC AND
FINANCIAL PROVISIONS
RELATING
TO CEDED TERRITORIES
ANNEX XV
SPECIAL PROVISIONS
INDUSTRIAL, LITERARY AND ARTISTIC PROPERTY
INSURANCE
ANNEX XVI
CONTRACTS,
PRESCRIPTION
AND NEGOTIABLE
INSTRUMENTS
ANNEX XVII
PRIZE
COURTS
AND
JUDGMENTS
_______________________________________________________________________________________
E le Colonie? Costate sangue. Il Grande Impero Coloniale, come finì?
In una beffa. Un impero finito nel ridicolo > >